YORKTOWN DAY ASSOCIATION
Yorktown Day commemorates the surrender of Lord Cornwallis' British and German troops at Yorktown, Virginia, to General George Washington's Allied American and French troops on October 19, 1781.
The 225th Anniversary of the Victory at Yorktown
October 19, 2006

—
On October 19, 1947, the Comte de Grasse Chapter of the Daughters of the American Revolution celebrated the 25th ceremony of sponsorship of the Yorktown Day activities.  This ceremony spurred the interest of other groups to form a committee in 1949 of those who had participated in the October 19, 1947, program.  This committee was to plan and carry out Yorktown Day programs.  On August 19, 1949, the committee formed the Yorktown Day Association.  Among its activities was the placement of memorial wreaths at the Monument to Alliance and Victory by various societies, which set the tradition upon which future Yorktown Days were based.
Since that time, the Yorktown Day Association members have planned patriotic exercises every year to commemorate the victory at Yorktown, which virtually assured American independence.
The Association currently has the following members:
Comte de Grasse Chapter, National Society Daughters of the American Revolution
National Society Daughters of the American Colonists
Virginia Society, Sons of the American Revolution
Sons of the American Revolution in the Commonwealth of Virginia
National Society of the Children of the American Revolution
The American Friends of Lafayette
Society of the Cincinnati in the State of Virginia
National Society Daughters of Founders and Patriots of America
York County Board of Supervisors
Jamestown-Yorktown Foundation
Yorktown Preservation Society
Yorktown Foundation
NOTE:  The Yorktown Day Association and the National Park Service, Colonial National Historical Park are co-sponsors of the annual Yorktown Day Celebration.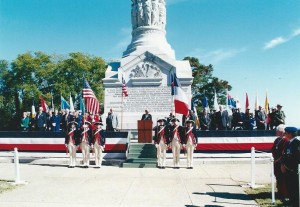 Back to top of page