YORKTOWN CUSTOM HOUSE
In keeping with the mission of preservation, The APVA Yorktown Branch has supported the Comte de Grasse Chapter of the DAR by providing funds to maintain the historic building.  In 2005, the APVA helped to improve the drainage system to remedy moisture problems, and in 2011, APVA helped replace the aging furnace.
The Ports Act of 1691 laid out 85 lots for the town of York.  Lot # 43 was designated for the Custom House, the site in which to collect the taxes on all goods arriving in the colony.  In 1721, Richard Ambler, collector for the Port of York River, purchased lots 42 and 43 and built the Custom House sometime after that.  Later, his 3 sons, John, Edward and Jacquelin, also became Customs Agents at Yorktown.
During the Revolutionary War, the Custom House was used as barracks for the British troops until the surrender. In1862, the Custom House was used by General J.B. Magruder as his headquarters during the Civil War. While the Union Army was in Yorktown, the adjacent wooden residence that had belonged to the Amblers was destroyed.  Civil War photographer Matthew Brady photographed the ruins of the home and the Custom House in 1865.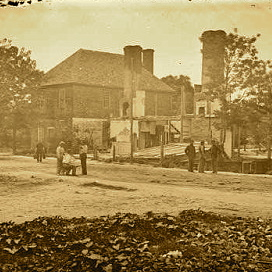 1882, the Custom House was sold at public auction to Dr. Daniel McNorton, an African-American who had been trained in New York as a physician. Dr. McNorton treated African-American clients residing in nearby Slabtown and had his office on the first floor of the Custom House. Dr. McNorton is notable also as he was one of the first African-Americans to be elected to and serve in the Virginia State Senate.  During Dr. McNorton's possession of the building, his daughter taught music lessons on the second floor and The Custom House was also used as a school for African-American children. Later, the building was used as a general store, and then a bank. After the bank closed, a barber shop conducted business on the second floor.
In 1922, Mrs. Adele M. Blow, a descendent of Thomas Nelson, Jr. and a Comte de Grasse Chapter of the Daughters of the American Revolution member, purchased the property from the McNorton heirs for $10,000. The chapter then began an aggressive fundraising campaign and was able to purchase the property from Mrs. Blow in 1924. In 1999, the Custom House was listed in the Virginia Landmark Register, and is included in the National Register of Historic Places. Maintenance of this historic building is the responsibility of the Comte de Grasse Chapter of the DAR.