Revolutionary War Cannon Used in the Battle of Yorktown in 1781
Displayed on the Waterfront at Riverwalk Landing
Dedicated May 29, 2006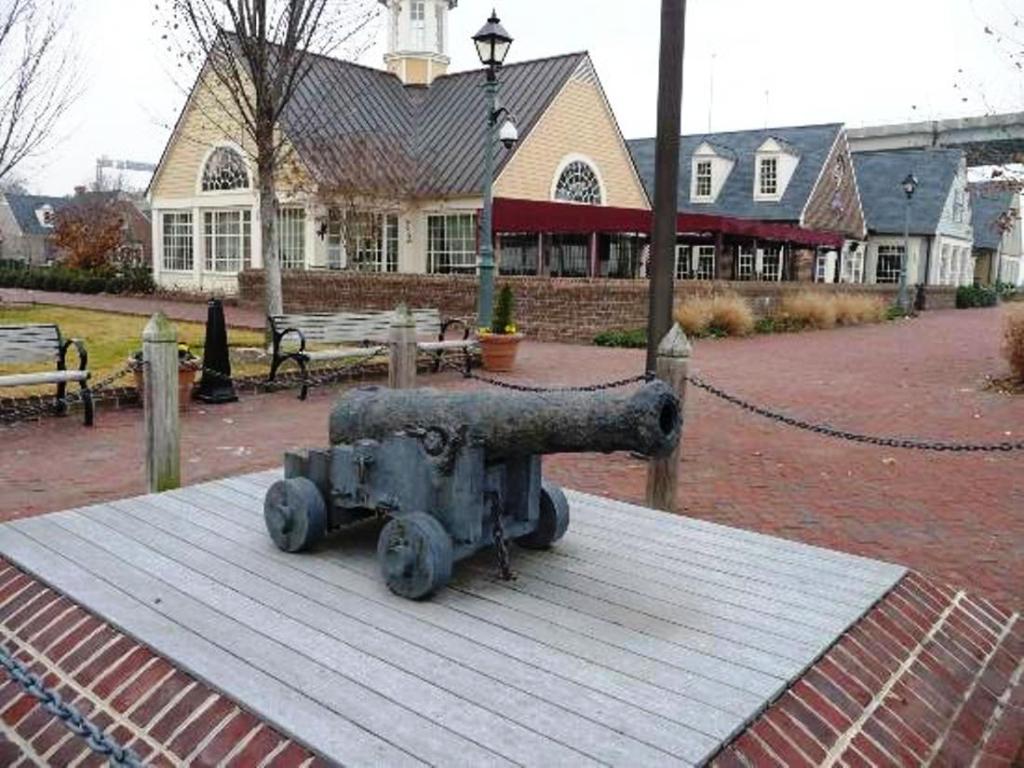 The guns of Yorktown are thankfully silent these days.  But over 200 years ago, they boomed almost continuously, day and night, for over a week.  Allied forces under the command of General George Washington laid siege to Yorktown to force a painful surrender on British forces led by Lord Cornwallis in a battle that led directly to end of the Revolutionary War.
That's the good news.  The bad news is that the bombardment of Yorktown destroyed a great deal of the historically significant town, once one of the largest tobacco-trading ports in America.  But recently, part of the port of Yorktown has been rebuilt as Riverwalk Landing.
In recognition of this important history, one of the cannons from the 1781 Battle of Yorktown was recently placed on display at Riverwalk Landing, near sculptures of General George Washington and French Admiral Comte de Grasse.
 

–
The four-pound naval cannon was one of many significant Revolutionary War artifacts recovered from the York River in 1930 during a joint salvage expedition by the National Park Service, The Mariners' Museum, and Newport News Shipbuilding (now part of Northrop Grumman).  The salvage operation was conducted in support of the sesquicentennial celebration of the Battle of Yorktown. The recovered cannon was originally displayed at The Mariners' Museum on a replica gun carriage built by the Shipyard in the 1930's but it had been in storage for many years.
British ships carrying this style of cannon were part of a defensive line of British merchant ships which were ordered scuttled by Cornwallis, in a line parallel to the Yorktown beach, to prevent an amphibious landing by French forces commanded by de Grasse.
The Director of the Yorktown Branch of the Association for the Preservation of Virginia Antiquities (APVA), Nancy Lee Clark, initiated and managed a project to restore the cannon so that it could once again stand in defense of Yorktown.
The project team consisted of York County officials, the Mariners' Museum, Shipyard craftsman, and Riverwalk contractors.  The county was persuaded to cover the cost of the Museum's skilled conservation team's efforts to restore the cannon specifically for outside display at Riverwalk.  Shipyard craftsmen were talked into building a new gun carriage for the cannon.  Rancorn Wildman designers developed a "ship's deck" display for it.  And general contractor W. M. Jordan, Inc. built the outdoor display area and installed the cannon.
On Sunday afternoon, May 29, 2006, an enthusiastic crowd of several hundred people dedicated the restored cannon to the brave men and women who defended American freedom at Yorktown in 1781.